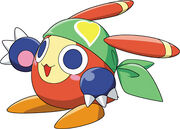 Heart Moo is one of the playable characters from Klonoa Beach Volleyball. He is the King of all Moos.
Abilities/Techniques
Moo Moo March
Heart Moo's Special Attack in Klonoa Beach Volleyball. He hits the ball over the net. Afterwards, his opponents are turned into wandering Moos.
Biography
Klonoa Beach Volleyball
Heart Moo participates in the Beach Volleyball Tournament as one of the playable characters. If he wins, Heart Moo befriends the beach ball instead of accepting the cash prize and the trophy. This starts a trend among all the other Moos, all of whom begin to befriend volleyballs as well.
Beach Volleyball Stats

Type: Balance

Ad blocker interference detected!
Wikia is a free-to-use site that makes money from advertising. We have a modified experience for viewers using ad blockers

Wikia is not accessible if you've made further modifications. Remove the custom ad blocker rule(s) and the page will load as expected.