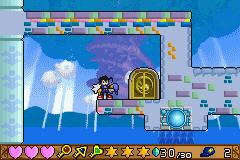 Moon Stones (つきのかけら Tsuki no Kakera, "Moon Fragment") are star-shaped stones from Kaze no Klonoa: Moonlight Museum, Klonoa: Empire of Dreams and Klonoa 2: Dream Champ Tournament. Most Visions in these games have three Moon Stones that Klonoa must obtain to open a Moon Door (つきのとびら Tsuki no Tobira) and complete the stage.
Ad blocker interference detected!
Wikia is a free-to-use site that makes money from advertising. We have a modified experience for viewers using ad blockers

Wikia is not accessible if you've made further modifications. Remove the custom ad blocker rule(s) and the page will load as expected.